Bronson Speed Co. Bronson Speed Co Bearings are proven the fastest, strongest, longest lasting and also longest spin skateboard bearing ever made! Manufacturer of advanced "Next-Generation" Bearings, Designed for Today's Skateboarding.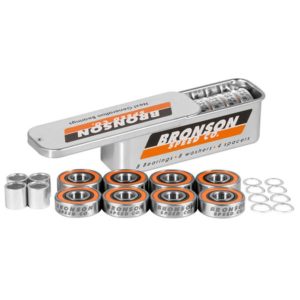 In conclusion, you can contact us at any of our three skate shops.
The Darkside (Redding, CA.)
975 Hilltop Dr
Redding, CA 96003
530-246-1773
The Darkside (Red Bluff, CA.)
1068 South Main Street
Red Bluff, CA 96080
(530) 527-9700
and Finally
You can also connect with us on Facebook Redding – Red Bluff
Steel bearings are actually among the most popular ones you can find in the market. Many consider this material as one of the best skate bearings as it is known for being the industry standard in the field of skateboarding. If you pick this material, you will notice that the bearings are usually circular in shape.
Finally
Bronson Speed Co. Bronson Speed Co bearings seemingly showed up over night and have been quick to already make a name for themselves as some of the best skateboard bearings in the industry. Thus, if you're looking for some of the fastest skateboard bearings for an affordable price, Bronson produces high-performing bearings for skateboarding.
 Also, when it comes to your skateboard, never settle for second best. That is why you should always use Bronson's.
Also, Bronson Speed Co Established in 2013 and is already a global leader in the industry. Bronson Speed Co. also quickly rose to the top, thanks to their reinvented skateboard bearings. They are also described as the "next generation of bearings," the company is famous for using the most accurate product-testing technologies the skating world has ever seen.
 Also, other bearing's may be more popular, but simply put Bronson's are the best bearings on the market today.