Huni Badger Portable Vaporizer or Nectar Collector is a portable vaporizer uses a ceramic heating element to instantly vaporize your extracts on contact, commonly called dabbing. It will work with wax or liquid forms of all extracts including cannabis, sage, lavender and weed. It is a portable unit that uses high output 18650 rechargeable li-ion batteries, commonly used for vaping.
The HUNI BADGER's portable design makes it easy for you to vaporize your favorite herbal extracts anytime, anywhere. It is also powered by a single rechargeable 18650 Lithium-Ion battery paired with a one-button control: Press 5 times to turn on and the square LED indicator glows white.
Also no matter the consistency of your extracts, the Huni Badger Portable Electronic Vertical Vaporizer is up to the task. Single button operation offers a portable, torch-free convenience that is delightfully simple to use. Each Huni Badger kit comes with everything you need in a rugged, waterproof case for ease of storage and transport.
You can also find these fine products at any one of our 2 smoke shops.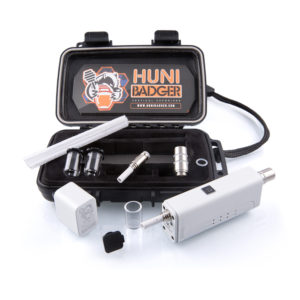 Darkside (Redding, CA.)
975 Hilltop Dr
Redding, CA 96003
530-246-1773
The Darkside (Red Bluff, CA.)
1068 South Main Street
Red Bluff, CA 96080
(530) 527-9700
And Finally
In Conclusion
The Huni Badger Portable Vaporizer Nectar Collector is awesome.
In conclusion, the Huni Badger is great for all your concentrate products.