Mendo Mulcher Grinders
All Mendo grinders come equipped with twice the amount of teeth you will see in any other brand grinder, providing a "mulch" that produces a perfect grind for your needs. All Mendo Mulchers start as an aircraft grade solid block of aluminum and are CNC machined down with precision, to size, creating a herb grinder that has the strength and weight that gives it the true premium quality feel. The Mendo Mulcher is the ultimate grinding tool that is built to last. Also, these Grinders Are the best American Made Grinders on the market today.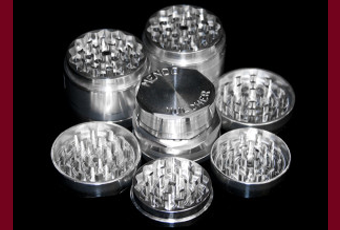 Mendo Mulcher Griders FEATURE:
Magnetic Lid
Double Thick
No loss of pollen or material
FULL LIFETIME WARRANTY
Made in the U.S.A.
CNC machined from billet aluminum 6061-T6 bar stock
Easy to clean and requires minimal maintenance
In Conclusion, you can contact us
The Darkside (Redding, CA.)
975 Hilltop Dr
Redding, CA 96003
530-246-1773
The Darkside (Red Bluff, CA.)
1068 South Main Street
Red Bluff, CA 96080
(530) 527-9700
Connect with us on Facebook Redding – Red Bluff
You Can Also Connect With Us On Instagram Redding
We have also been in business for almost 40 years now. The Darkside also offers blown glass pipes, bubblers, stemless bubblers, inline bubblers, oil domes and glass nails. We have two stores to serve you, one in Redding, California and another in Red Bluff, California. Additionally you can find inside out blown glass pipes, one of a kind heady pieces, inside out silver and gold fumed color changing blown glass pipes. We also have bongs, wood pipes, flags and more than you can imagine! We are also the largest smoke shop for hundreds of miles.