Darkside Smoke Shop 975 Hilltop Dr Redding has Nag Champa Incense. It is the most popular selling incense in the world. 15g, 40g and 250g packages. Nag Champa is hand made in India from the Champa Flower. You can also click here for our Home Page DARKSIDE.
The Darkside (Redding, CA.)
975 Hilltop Dr
Redding, CA 96003
530-246-1773
Also, Nag champa is a fragrance of Indian origin. It is made from a combination of sandalwood and either champak or frangipani. When frangipani is used, the fragrance is usually referred to simply as champa.
In Conclusion
Nag champa is commonly used in incense, soap, perfume oil, essential oils, candles, and personal toiletries. It is a popular and recognizable incense fragrance throughout the world.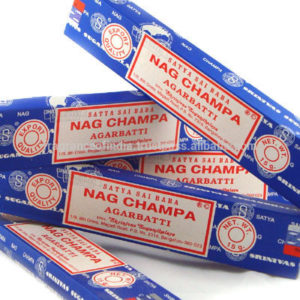 As you've probably guessed, Nag Champa's origins are as an incense in India where it was often used for meditation, yoga, and rituals in Hindu temples and ashrams. It's now one of the most popular incense scents in the world! NagChampa is thought to stimulate spiritual awareness while simultaneously grounding you in the present.

The Ailanthus tree is used to create the scent of Nag Champa. In India, nagchampa is burned in temples as an offering. Nag champa is associated with hippie culture and fashion.

What does Nag Champa inscence smell like?

Nag Champa also has a sweet, slightly woodsy smell that many people describe as calming, warming, and moist. For some, the smell is reminiscent of jasmine or magnolia flowers, the forest, or even tea . Long popular as an incense in India, the scent made its way to the U.S.

Also, Nag Champa's name comes from a tree common in India called the champa tree. Whose flower has a particularly heavy and sweet aroma that is said to attract many kinds of snake. Hence the word Nag, which means snake. Nag Champa is translated as snake tree or snake flower.